Top Menu
Home
Shop
New Arrivals
White Friday
Proteins
Weight Gainers & Carbs
Amino Acids
Bcaa & Recovery
Creatine
Pre Workout
Weight Loss & Fitness / Stimulant
Weight Loss & Fitness / Non Stimulant
Test Boosters
GH Boosters
Vitamins & Minerals
For Seniors
Woman Health
Kids Health
Omega & Fish Oil
Bones & Joint Support
Skin & Hair Care
Max Protect
Training Supports
Shakers
Sports Wear
High Natural Foods
Protein Bars
Fekr Tany
Blog
About Us
Legal
Security
Privacy Policy
Terms & Conditions
Contact us
Our Stores
My Account
My Wishlist
My Orders
My Invoices
My Address Book

0
0
Commandos TNT Carb Plus-70Serv.-2100G-Pineapple
Home
>
Shop
>
Proteins / Weight Gainers & Carbs
>
Weight Gainers & Carbs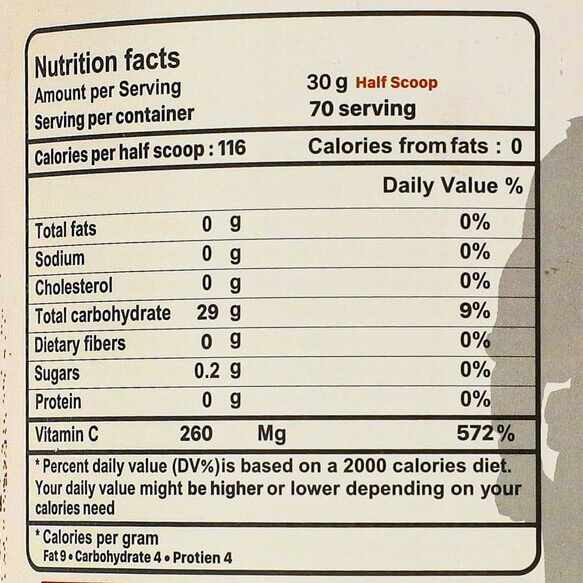 Commandos TNT Carb Plus-70Serv.-2100G-Pineapple
---
Description
Commandos TNT Carb Plus, 70Servngs, 2100G, Pineapple.

● Fast-Acting Carb Blend For Glycogen Loading and Sustained Energy as it contains Maize Starch.

● TNT IS SCIENTIFICALLY FORMULATED WITH PATENTED INGREDIENTS FOR CARB LOAD 3X FASTER THAN ANY OTHER CARB DRINK.

● Pump up your energy WITH NO BLOATING, NO CRASHING, NO DIZZINESS, AND INTESTINAL COMFORT.

● TNT is insulin friendly formula with slow-burning, long-lasting carbs, Its onset of action after 10 minutes (peak effect).

● TNT is a NATURAL energy booster with 100% Sugar-Free, Vegan, Non-GMO, Gluten-Free AND BSCG Drug-Free Certified.


TNT BEFORE GYM BATTLE:
Need some fuel in your tank, within 10 minutes? TNT is emptying from your stomach to deliver high fuel to your muscle and brain cells.

FOR MAXIMUM RESULT,

STACK WITH: Pre-workout supplements and electrolytes to increase blood flow and hydration.
TNT DURING GYM BATTLE:
TNT blows the doors off of carb replenishment during exercise, getting glucose to muscle cells faster without any crash. Workouts lasting longer than 90 minutes will usually benefit from re-fueling approximately every 45-60 minutes.

FOR MAXIMUM RESULT,

STACK WITH: Commandos creatine and BCAAs for Endurance and Energy.
TNT AFTER GYM BATTLE
TNT leads to a greater and faster muscle recovery within 100 minutes after high-intensity exercises.

FOR MAXIMUM RESULT,

STACK WITH: Protein, Creatine, and Carnitine to enhance recovery and protein utilization/uptake via insulin secretion.

Usage of TNT:

Mix 2 scoops (62 gm) in a shaker with 700 ml of water, juice or your favorite beverage and drink.

 Warnings: Consult a physician before using this product. If you have diabetes.

 Do not use if pregnant or nursing. Do not exceed the recommended dose.