Top Menu
Home
Shop
Clearance
Fekr Tany
For Seniors
Proteins
Weight Gainers & Carbs
Amino Acids
Bcaa & Recovery
Creatine
Pre Workout
Test Boosters
GH Boosters
Sarms
Weight Loss & Fitness / Stimulant
Weight Loss & Fitness / Non Stimulant
Max Protect
Vitamins & Minerals
Omega & Fish Oil
Bones & Joint Support
Skin & Hair Care
Woman Health
Kids Health
Training Supports
Shakers
Sports Wear
High Natural Foods
Protein Bars
Blog
About Us
Legal
Security
Privacy Policy
Terms & Conditions
Contact us
Our Stores
My Account
My Wishlist
My Orders
0
Gaspari Nutrition Real Mass Gainer-22Serv.-5.454G-Chocolate Icecream
Home
>
Shop
>
Proteins / Weight Gainers & Carbs
>
Weight Gainers & Carbs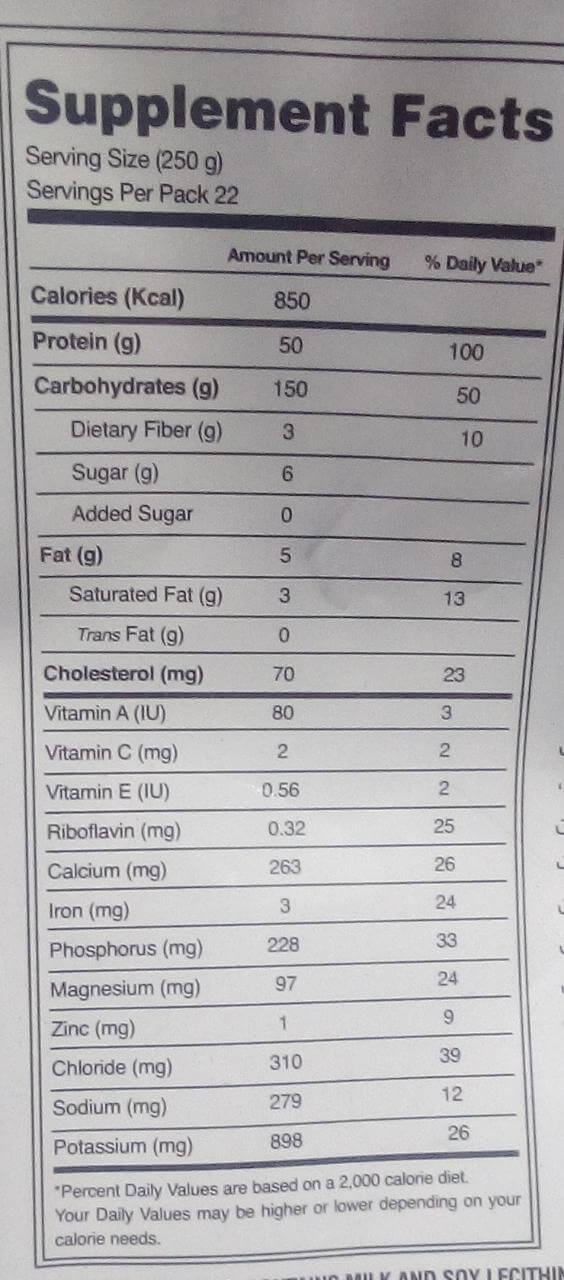 Gaspari Nutrition Real Mass Gainer-22Serv.-5.454G-Chocolate Icecream
---
Description
Gaspari Nutrition Real Mass Gainer, 22Servings, 5.454G, Chocolate Ice Cream.
Advanced weight gainer for bulking with the highest quality nutrients.

100% complex carbohydrate blend.

Ultra-Premium protein matrix.

Added Creatine and BCAAs.

840 Calories.

DIGESTIVE ENZYMES

NO ARTIFICIAL COLORS

Incredible Taste.
Gluten-Free.
Usage of Real Mass Gainer:

SHAKE: Add 4 scoops of REAL MASS® per 450-600 ml of liquid to a shaker cup, secure the top and shake for 20-30 seconds.

BLEND: Add 4 scoops of REAL MASS® per 450-600 ml of liquid to a blender and mix. For a frosty shake, add a handful of ice cubes.

WHEN TO TAKE:

PRE: Before training, REAL MASS® is a great tasting and easy-to-digest source of time-released amino acids.

POST: After a workout, REAL MASS® immediately starts repairing and building muscle.

ANYTIME: Use REAL MASS® between meals, with meals or anytime you want delicious protein satisfaction




Warnings:

As with any dietary supplement, consult your healthcare practitioner before using this product, especially if you are pregnant, nursing or otherwise under medical supervision.

KEEP OUT OF THE REACH OF CHILDREN.



0
Gaspari Nutrition Real Mass Gainer-22Serv.-5.454G-Chocolate Icecream
0
Gaspari Nutrition Real Mass Gainer-22Serv.-5.454G-Chocolate Icecream
0
Gaspari Nutrition Real Mass Gainer-22Serv.-5.454G-Chocolate Icecream
0
Gaspari Nutrition Real Mass Gainer-22Serv.-5.454G-Chocolate Icecream
0
Gaspari Nutrition Real Mass Gainer-22Serv.-5.454G-Chocolate Icecream