Top Menu
Home
Shop
Ramadan Offers
Fekr Tany
Proteins
Weight Gainers & Carbs
Amino Acids
Bcaa & Recovery
Creatine
Pre Workout
Test Boosters
GH Boosters
Sarms
Weight Loss & Fitness / Stimulant
Weight Loss & Fitness / Non Stimulant
Max Protect
Vitamins & Minerals
Omega & Fish Oil
Bones & Joint Support
Skin & Hair Care
Woman Health
Kids Health
Training Supports
Shakers
Sports Wear
High Natural Foods
Protein Bars
About Us
Legal
Security
Privacy Policy
Returns & Exchange
Terms & Conditions
Contact us
Our Stores
My Account
My Wishlist
My Orders
0
Gaspari Nutrition MyoFusion Advanced protein-48Serv.-1.8KG-Strawberry&Cream
Home
>
Shop
>
Proteins / Weight Gainers & Carbs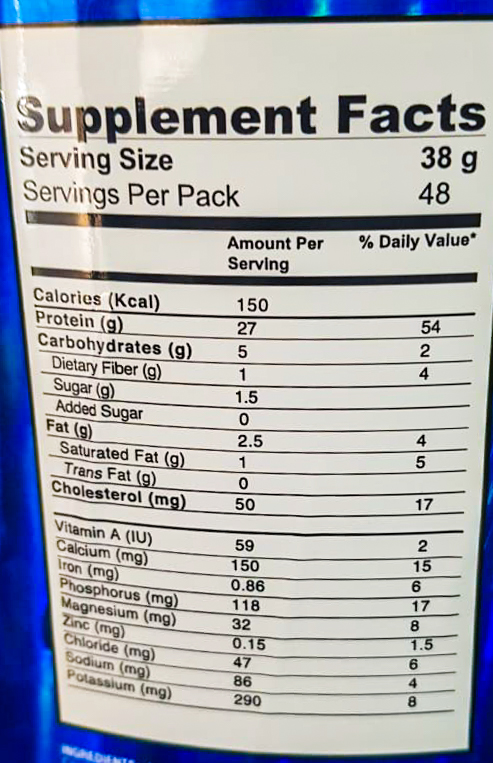 Gaspari Nutrition MyoFusion Advanced protein-48Serv.-1.8KG-Strawberry&Cream
---
Description
Gaspari Nutrition Myofusion Advanced Protein, 48serv, 1.8kg, Strawberry&Cream.




Build Muscles, Gain Strength and Repair Tissues Of Muscles with Myofusion Advanced Protein



No Amino Spiking,

Enzyme Matrix.

Full Of Vitamins.

Gluten-free.

Low Fat.

Zero Added Sugar.

Contain Essential Amino Acids.
               Advanced Protein Blend From 5 Sources Of Proteins: 
Whey Protein Concentrate.

Whey Protein Isolate.

Whey Protein Hydrolysate.

Milk Protein Isolate.

Micellar Casein.


Usage of MYOFUSION:
Mix 1 scoop with 170-250 ml of cold water, skim milk or your favorite beverage in a shaker cup, glass, or blender. Use between meals and before and after your workout.

Warnings:

Don't exceed the recommended dosage, Intended for Adults over 18 years.

ALLERGEN INFORMATION: CONTAINS MILK AND SOY INGREDIENTS. MANUFACTURED IN A FACILITY THAT ALSO PROCESSES PEANUTS, TREE NUTS, WHEAT & EGGS.
0
Gaspari Nutrition MyoFusion Advanced protein-48Serv.-1.8KG-Strawberry&Cream
0
Gaspari Nutrition MyoFusion Advanced protein-48Serv.-1.8KG-Strawberry&Cream
0
Gaspari Nutrition MyoFusion Advanced protein-48Serv.-1.8KG-Strawberry&Cream
0
Gaspari Nutrition MyoFusion Advanced protein-48Serv.-1.8KG-Strawberry&Cream
0
Gaspari Nutrition MyoFusion Advanced protein-48Serv.-1.8KG-Strawberry&Cream