Top Menu
Home
Shop
Clearance
Fekr Tany
For Seniors
Proteins
Weight Gainers & Carbs
Amino Acids
Bcaa & Recovery
Creatine
Pre Workout
Test Boosters
GH Boosters
Sarms
Weight Loss & Fitness / Stimulant
Weight Loss & Fitness / Non Stimulant
Max Protect
Vitamins & Minerals
Omega & Fish Oil
Bones & Joint Support
Skin & Hair Care
Woman Health
Kids Health
Training Supports
Shakers
Sports Wear
High Natural Foods
Protein Bars
Blog
About Us
Legal
Security
Privacy Policy
Terms & Conditions
Contact us
Our Stores
My Account
My Wishlist
My Orders
0
Challenger Nutrition Whey Isolate-60Serv.-1800G-Strawberry
Home
>
Shop
>
Proteins / Weight Gainers & Carbs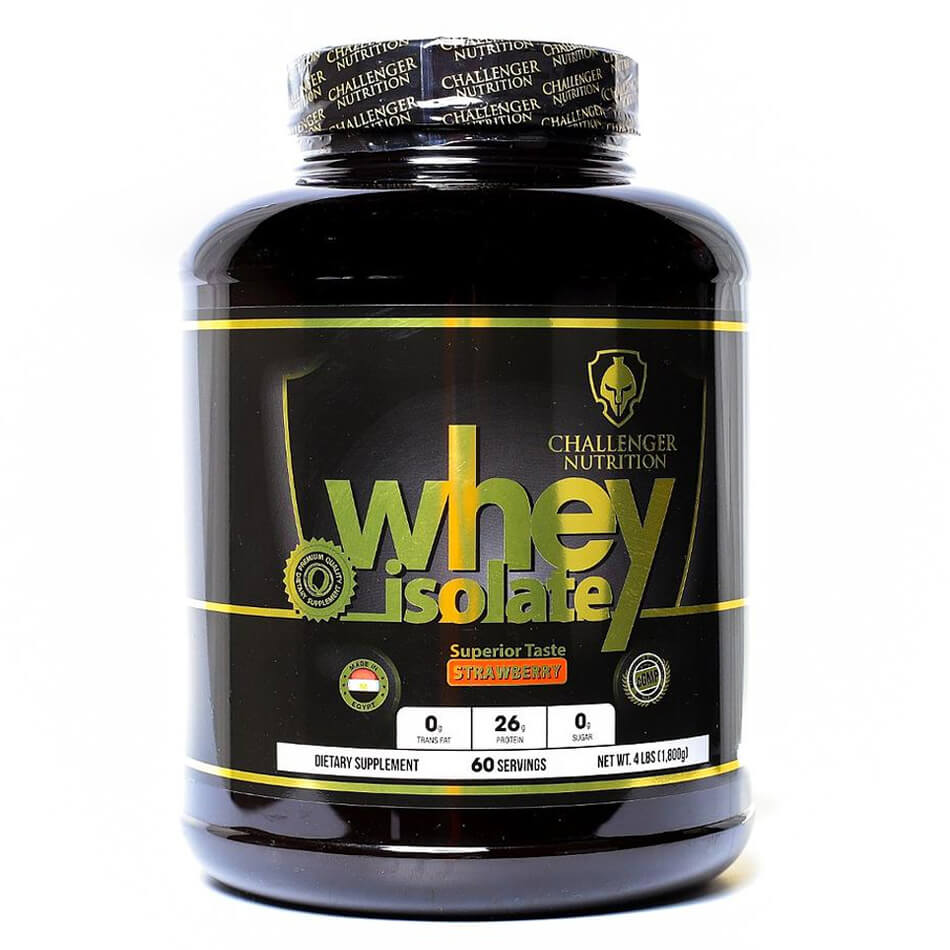 Challenger Nutrition Whey Isolate-60Serv.-1800G-Strawberry
---
Description
 Challenger Nutrition Whey Isolate is the international version that has been manufactured in Egypt with a new and improved formula contains high-quality ingredients.

Challenger Nutrition Whey Isolate:
100% pure according to the microfiltration technique.

For gaining muscles and strength.

Quickly digested and Absorbed.

Whey isolate contains up to 86% protein by weight.

preventing muscle breakdown.

Increase your performance and elevate your Workouts.
Into a Serving: 
25 grams of protein.

0.5 grams of Fat.

0 Sugar.

1.5 grams of Carbohydrates.

Full profile of amino acids.


Usage of Challenger Nutrition Whey Isolate: 

Just mix a scoop of your favorite flavor into 125-200 ml of cold water or skim milk before and after workouts. 




Warnings: 

Keep Out of the reach of children. Do not use this product if you are pregnant or nursing. Consult a medical doctor before starting any diet or exercise program or if you have any known or suspected medical condition(s), and/or if you are taking any prescription or medication(s).



0
Challenger Nutrition Whey Isolate-60Serv.-1800G-Strawberry
0
Challenger Nutrition Whey Isolate-60Serv.-1800G-Strawberry
0
Challenger Nutrition Whey Isolate-60Serv.-1800G-Strawberry
0
Challenger Nutrition Whey Isolate-60Serv.-1800G-Strawberry
0
Challenger Nutrition Whey Isolate-60Serv.-1800G-Strawberry