Top Menu
Home
Offers
Shop
Proteins
Weight Gainers & Carbs
Amino Acids
Bcaa & Recovery
Creatine
Pre Workout
Weight Loss & Fitness / Stimulant
Weight Loss & Fitness / Non Stimulant
Test Boosters
GH Boosters
Vitamins & Minerals
For Seniors
Woman Health
Kids Health
Omega & Fish Oil
Bones & Joint Support
Skin & Hair Care
Max Protect
Training Supports
Shakers
Sports Wear
High Natural Foods
Protein Bars
Fekr Tany
Blog
Legal
Security
Privacy Policy
Terms & Conditions
Contact us
About Us
Overview
Brand Story
Our Stores
My Account
My Wishlist
My Orders
My Address Book


0
0
Muscle Add Hydro Beef Add 100% Hydrolysed Beef Protein-30Serv.-1020G.-Chocolate
Home
>
Shop
>
Proteins / Weight Gainers & Carbs
>
Proteins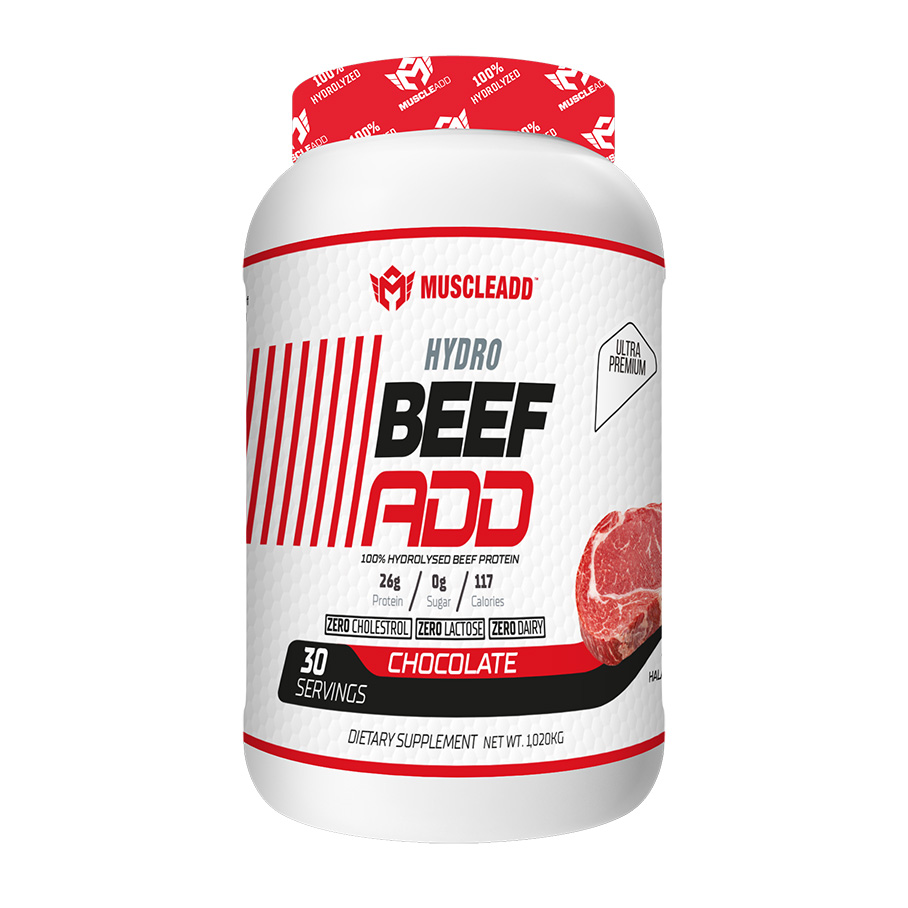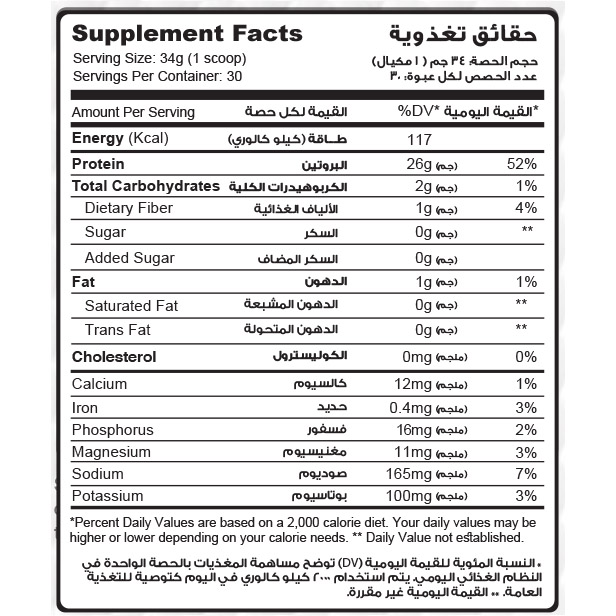 Muscle Add Hydro Beef Add 100% Hydrolysed Beef Protein-30Serv.-1020G.-Chocolate
---
Description
MUSCLE ADD™ Beef Add®
Beef Add® is a 100% hydrolyzed beef protein that's certified a HALAL product with 100% HALAL ingredients with zero dairy, zero lactose, zero gluten, & zero cholesterol.
It's time to level up and fuel your muscles with a protein that delivers results.
COMPOSITION
Each scoop contains 26 grams of hydrolyzed Beef protein.
INGREDIENTS
ultrafiltered hydrolyzed beef protein peptides, cocoa powder, maltodextrin, flavors.
DIRECTIONS OF USE
Mix one scoop with 170 – 200 ml of cold water or skimmed milk and shake well. Consume 1 to 2 scoops daily.
For best results, combine with a diet and exercise program.
Purpose
Promote muscle growth and prevent muscle loss.
Suitable for people with lactose or gluten intolerance.
Great for those looking for a protein that's not milky based since all whey protein types are made of milk.
Loaded with a complete amino acids profile with all the essential and nonessential amino acids.
Supplement Facts
Serving size 1 Scoop 9g
Serving per container: 30
Amount per serving
Energy
117
Protein
26g
Total Carbohydrates
2g
Dietary Fibel
1g
Sugar
0g
Added Sugar
0g
Fat
1g
Saturated Fat
0g
Trans Fat
0g
Cholesterol
0mg
Calcium
12mg
Iron
0.4mg
Phosphorus
16mg
Magnesium
11mg
Sodium
165mg
Potassium
100mg
Percent Daily Values are based on a 2,000 calorie diet,
Your daily values my be higher or lower depending on your calories
Order On Phone
With just one phone call, your product will be purchased. Dial this number and our team will assist you in receiving this supplement as soon as possible.
19983