Top Menu
Home
Offers
Shop
Proteins
Weight Gainers & Carbs
Amino Acids
Bcaa & Recovery
Creatine
Pre Workout
Weight Loss & Fitness / Stimulant
Weight Loss & Fitness / Non Stimulant
Test Boosters
GH Boosters
Vitamins & Minerals
For Seniors
Woman Health
Kids Health
Omega & Fish Oil
Bones & Joint Support
Skin & Hair Care
Max Protect
Training Supports
Shakers
Sports Wear
High Natural Foods
Protein Bars
Fekr Tany
Blog
Legal
Security
Privacy Policy
Terms & Conditions
Contact us
About Us
Overview
Brand Story
Our Stores
My Account
My Wishlist
My Orders
My Address Book


0
0
Muscle Add Black Mirror-270G.-30Serv.-Blue Razz
Home
>
Shop
>
Pre Workout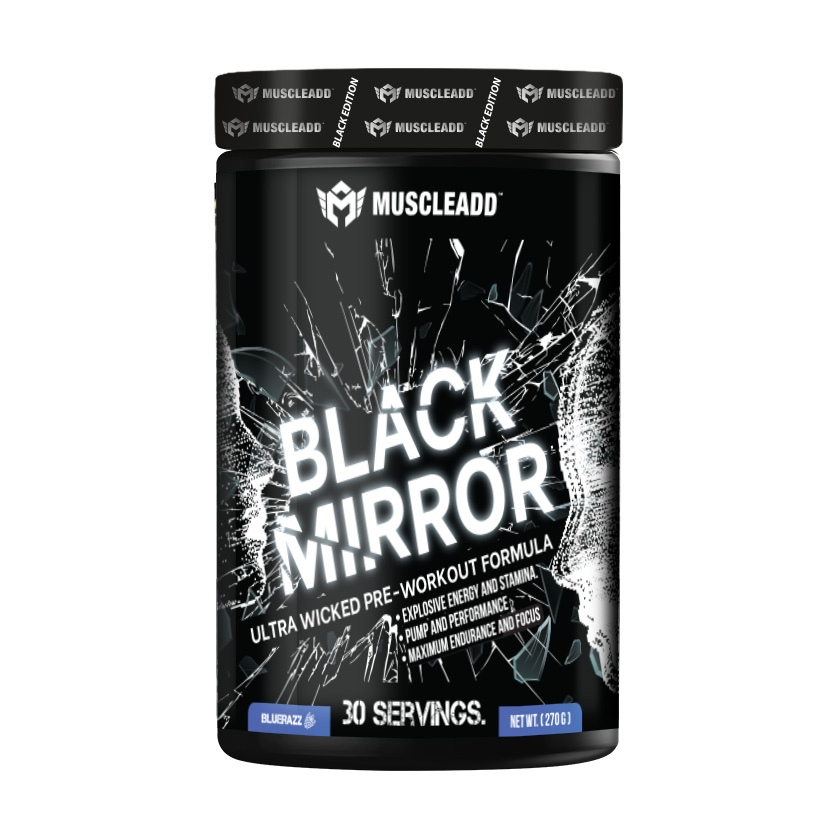 Muscle Add Black Mirror-270G.-30Serv.-Blue Razz
---
Description
MUSCLE ADD™ Black Mirror
Is an ultra-concentrated pre-workout formula specially designed for athletes who are looking to overcome their fears. Black Mirror is the perfect pre-workout formula for a great hardcore workout experience, and it got all the needed ingredients within.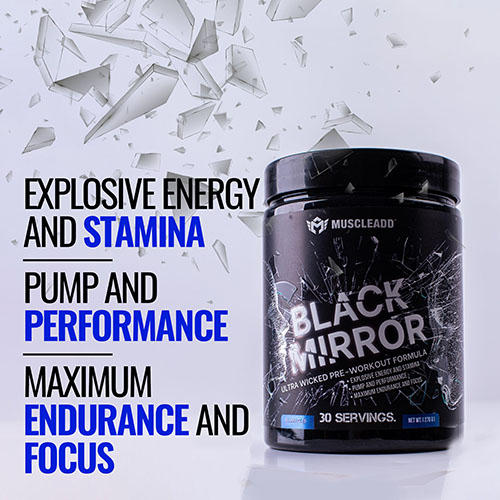 COMPOSITION
Formulated with arginine to stimulate the nitric oxide production thereby enhancing pump, caffeine for mental alertness, beta-alanine, and creatine HCL for a better performance.
INGREDIENTS
L-Glutamine, Modified Extended-Release Formula (Low DE Glucose Polymers, High Oleic Hydrogenated Soybean Oil Powder, Soy Lecithin).
DIRECTIONS OF USE
As a dietary supplement use one scoop 200-300 ml of cold water 15-30 minutes before exercise. or as indicated by a nutritionist. More or less water can be used to meet desired taste. Do not exceed two servings per 24 hours. For a better sleep pattern use 6-8 hours before sleep, don't consume at night.
Purpose
ULTRA WICKED PRE-WORKOUT FORMULA.
Explosive Pump and Energy.
Enhanced performance and Stamina.
Maximum Endurance.
Supplement Facts
Serving size 1 Scoop 9g
Serving per container: 30
Amount per serving
Energy
5
Total Carbohydrates
1g
Dietary Fiber
1g
Niacin
45mg
Vitamin B6
0.7mg
Folate
375mg
Vitamin B12
52.4mcg
Sodium
10mg
Beta Alanine
2400mg
Arginine Alpha-Ketoglutarate
1500mg
N-Acetyl L-Tyrosine
1500mg
Creatine HCL
225mg
Caffeine
221.6mg
Percent Daily Values are based on a 2,000 calorie diet
Order On Phone
With just one phone call, your product will be purchased. Dial this number and our team will assist you in receiving this supplement as soon as possible.
19983