Top Menu
Home
Offers
Shop
Proteins
Weight Gainers & Carbs
Amino Acids
Bcaa & Recovery
Creatine
Pre Workout
Weight Loss & Fitness / Stimulant
Weight Loss & Fitness / Non Stimulant
Test Boosters
GH Boosters
Vitamins & Minerals
For Seniors
Woman Health
Kids Health
Omega & Fish Oil
Bones & Joint Support
Skin & Hair Care
Max Protect
Training Supports
Shakers
Sports Wear
High Natural Foods
Protein Bars
Fekr Tany
Blog
Legal
Security
Privacy Policy
Terms & Conditions
Contact us
About Us
Overview
Brand Story
Our Stores
My Account
My Wishlist
My Orders
My Invoices
My Address Book


0
0
Max Muscle The Storm Pre-Workout-1Serv.-15G-Watermelon
Home
>
Shop
>
Pre Workout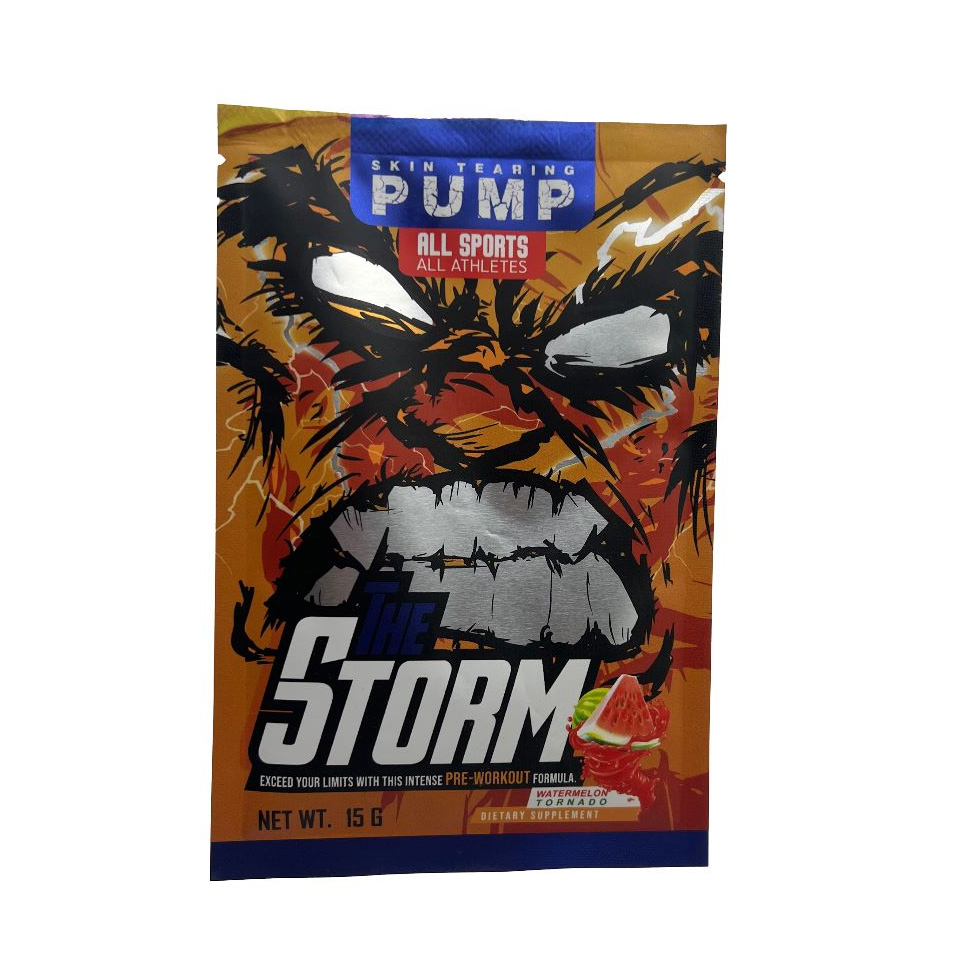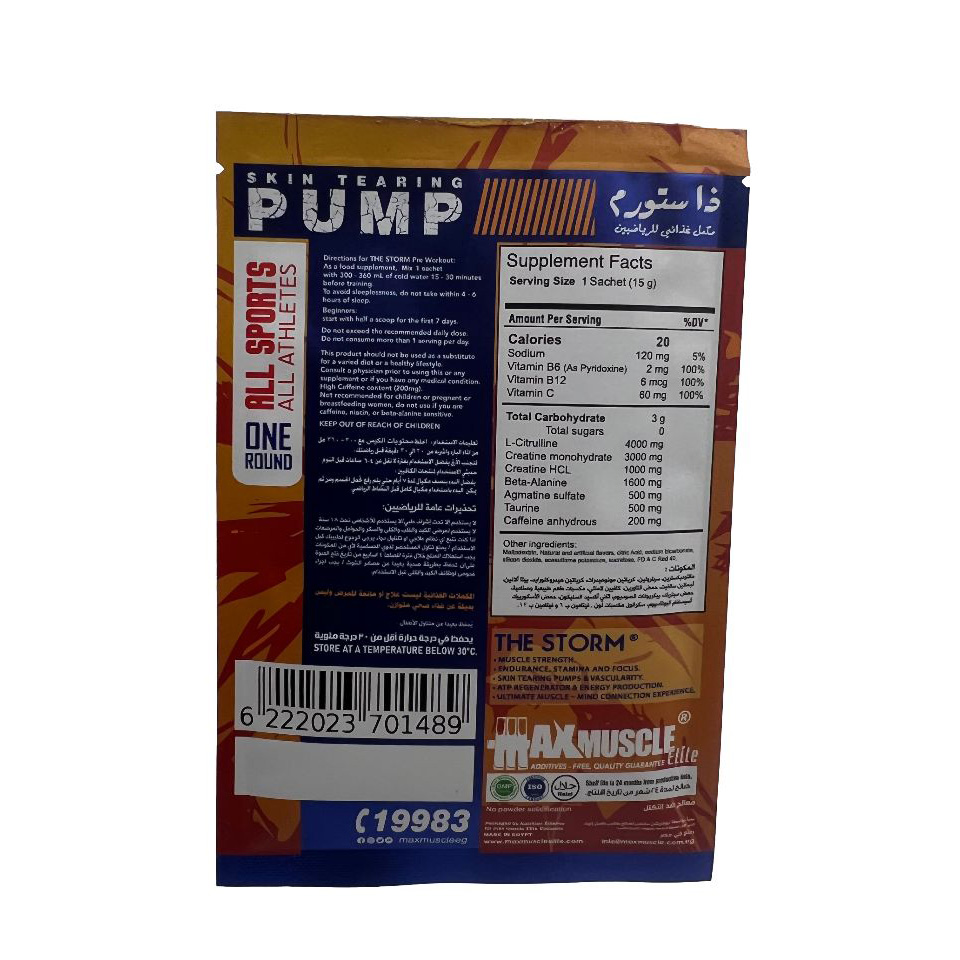 Max Muscle The Storm Pre-Workout-1Serv.-15G-Watermelon
---
Description
Max Muscle the Storm
Is a pre-workout supplement that is designed to help you push yourself harder during workouts. It contains a blend of ingredients that are known to increase energy, focus, and muscle pumps.
Ingredients
Citrulline - Creatine Monohydrate - Creatine HCL - Beta Alanine - Agmatine Sulfate - Taurine - Caffeine Anhydrous - Sodium - Calcium - Potassium - Vitamin B6.
Direction fo use
Mix 1 sachet with 300-360 ml of water and consume 15 – 30 minutes before training.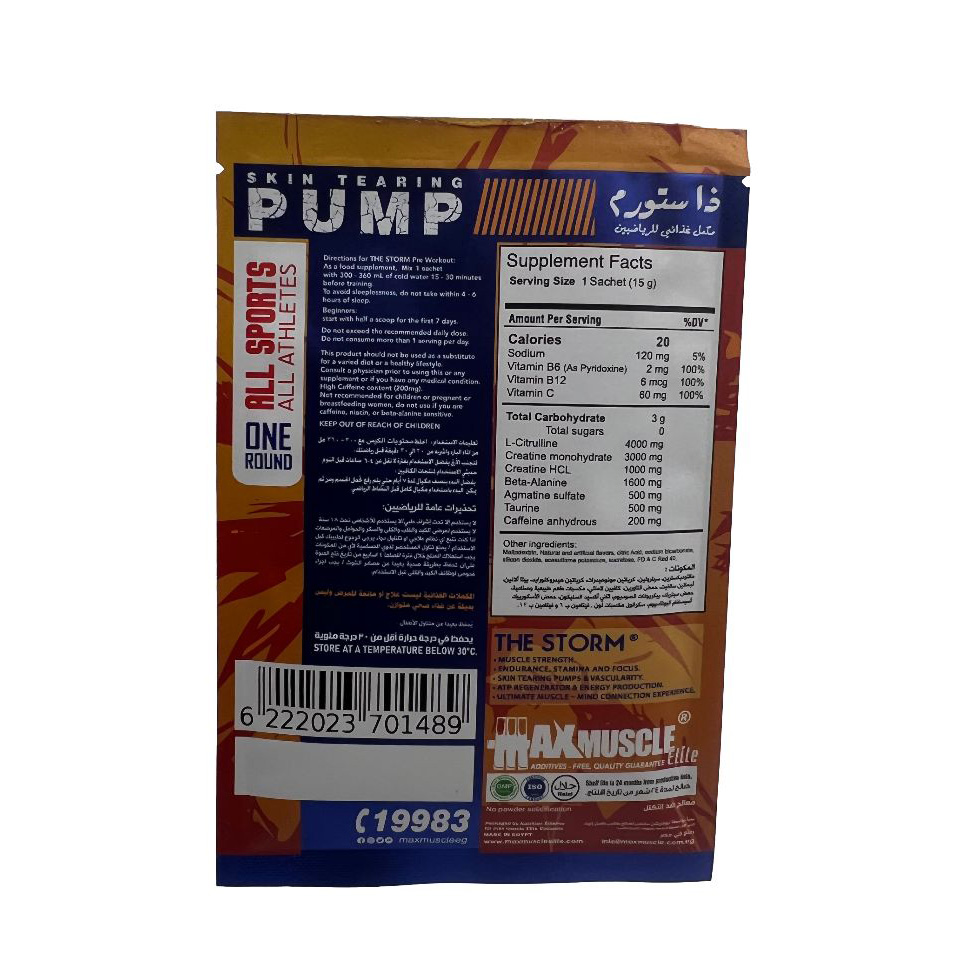 Purpose
Muscle Strength.
Endurance & Stamina.
Skin Tearing Pumps & Vascularity.
Atp Regenerator & Energy Production.
Ultimate Muscle – Mind Connection Experience.
Supplement Facts
Serving size 1 Scoop (15g)
Amount Per Serving
Calories
20
Sodium
120 mg
Vitamin B6
2 mg
Vitamin B12
6 mcg
Vitamin C
60 mg
Total Carbohydrate
3 g
Total Sugar
0
L-Citrulline
4000 mg
Creatine Monohydrate
3000 mg
Creatine HCL
1000 mg
Beta-Alanine
1600 mg
Agmatine Sulfate
500 mg
Taurine
500 mg
Caffeine anhydrous
200 mg
Order On Phone
With just one phone call, your product will be purchased. Dial this number and our team will assist you in receiving this supplement as soon as possible.
19983