Top Menu
Home
Ramadan Offers
Shop
Proteins
Weight Gainers & Carbs
Amino Acids
Bcaa & Recovery
Creatine
Pre Workout
Weight Loss & Fitness / Stimulant
Weight Loss & Fitness / Non Stimulant
Test Boosters
GH Boosters
Vitamins & Minerals
For Seniors
Woman Health
Kids Health
Omega & Fish Oil
Bones & Joint Support
Skin & Hair Care
Max Protect
Training Supports
Shakers
Sports Wear
High Natural Foods
Protein Bars
Fekr Tany
Blog
Legal
Security
Privacy Policy
Terms & Conditions
Contact us
About Us
Overview
Brand Story
Our Stores
My Account
My Wishlist
My Orders
My Invoices
My Address Book


0
0
Max Muscle Creatine 99.9%Creapure-40Serv.-200G
Home
>
Shop
>
Offers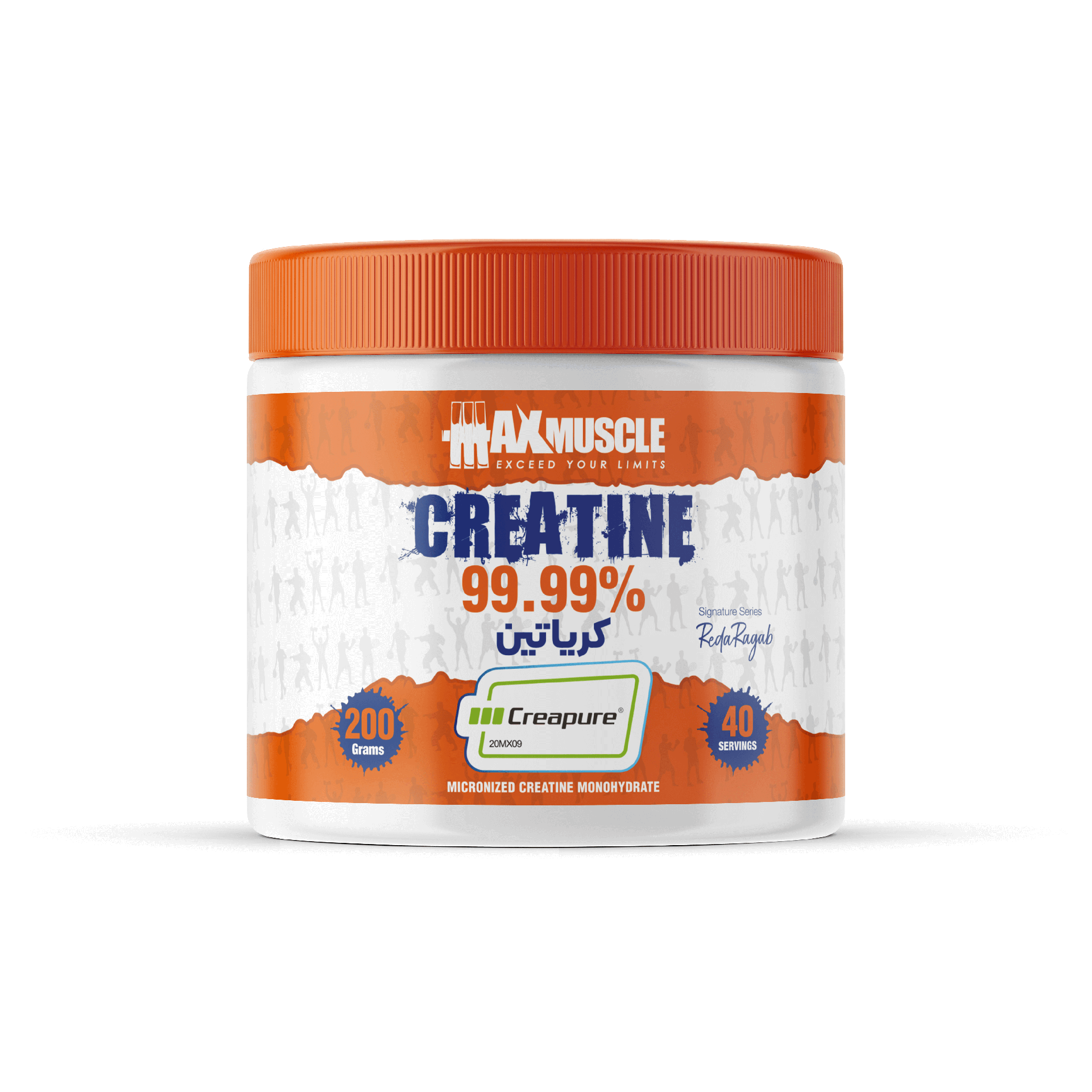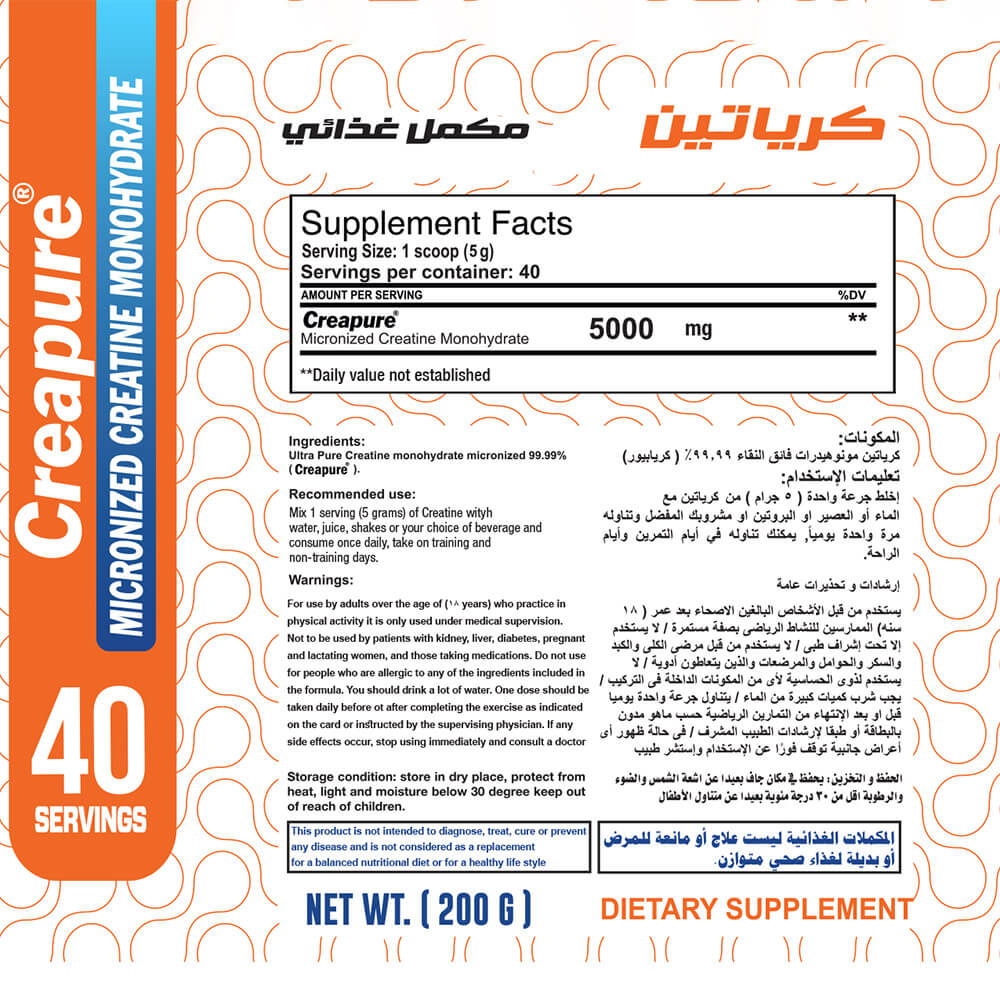 Max Muscle Creatine 99.9%Creapure-40Serv.-200G
---
Description
Max Muscle Max Pure Crea-tine 99.9%
Is one of the products that gained a great reputation for its purity among athletes and bodybuilders.
Why Max Muscle Max Pure Crea-tine 99.9%?
Every scoop has 5 grams of pure creatine monohydrate, that's for sure will increase your lean muscle mass, also creatine is a great energy stimulator as it helps muscles to produce energy during heavy lifting or high-intensity workouts. Creatine monohydrate will-known for improving strength and brain functions.
Here are some reasons you should use Max Muscle Max Pure Crea-tine 99.9%
Creatine improves athletic performance and muscle recovery after training, this was mentioned in so many studies.
It will make you stronger, studies have shown that athletes who use creatine their strength up by 8% more than those who don't use creatine monohydrate.
Makes your muscles look bigger and increases your muscle mass, cause it stores more water in your muscles and you can see the difference day or a week after using it.
Creatine is great for fasting muscle recovery that happens after training as it reduces the cell damage after training.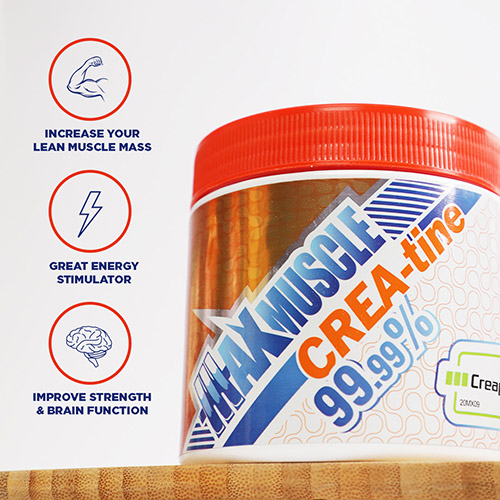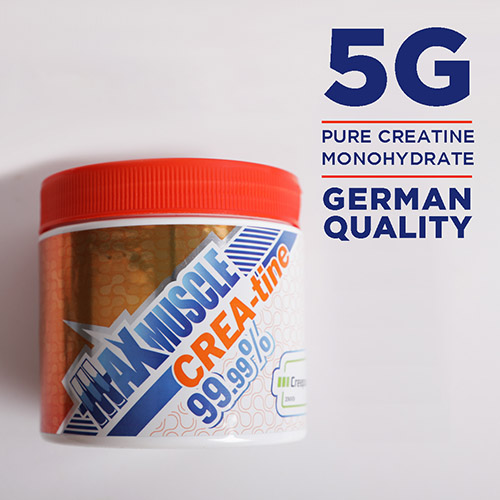 What Does Max Muscle Max Pure Crea-tine 99.9% do?
After taking creatine, creatine donates the phosphate to the ADPs in your body to transform it to ATPs (the molecules of energy)by this process your body gets more energy.
Creatine will make you gain weight in two ways:
It causes rapid water weight because creatine draws water into muscles' cells, which leads to muscle puffiness around your legs, arms, and stomach.
As creatine improves your strength and energy, It will lead to more training and more muscle gain.
What's the Best Flavor for Max Muscle Max Pure Crea-tine 99.9%?
Max Muscle's creatine monohydrate has no flavors, so you can mix it with water or your favorite fruit juice.
Direction of use:
Most athletes take 3-5 grams per day to maintain their muscle creatine stores.
The best time to take creatine is 30 minutes after your exercise on workout days, on rest days use it during the day.
Who Can Use it:
Max Muscle Max Pure Crea-tine 99.9% suitable for men and women athletes. Adults aged +18
The common questions:
Q1. When should I take creatine?
There're many benefits of taking creatine before and post-workout, just add it to your daily intake.
Q2. How should I take creatine post-workout?
It's better to take ut with carbs like juice.
Q3. How should I take creatine as a pre-workout?
Take it 30 minutes before training to help you improve your performance.
Supplement Facts
Serving size 1 Scoop (5g)
Serving per container: 40 Serving
Micronized Creatine Monohydrate
5000 MG
Percent daily value are based on a 2000 calorie diet
Your daily values maybe higher or lower depending on your calories need.
Order On Phone
With just one phone call, your product will be purchased. Dial this number and our team will assist you in receiving this supplement as soon as possible.
19983
Related Products